Mother's Day crafts and prints for kids.
Are you looking for some fun and original activities for kids all centered around the theme of mother's day? Then check out these three free mother's day printables you can use to keep your kids entertained or to print out an easy mother's day gift. So, take a look at these fun and free mother's day activities I made for you!
1. A Coloring Page to Make A Portrait of your Mom
This first printable is a great simple craft for kids that you can print out and that's all you'll have to do. Give them some pencils or markers and they can express themselves while trying to create a pretty portrait of their mom. The flowers around the picture are easy coloring in parts that most ages can do, so you can even make it a bit of a group project.
The one you see here is made by my niece (with a bit of help with the coloring of the flowers, because she gets bored really easily). It's perfect for all different ages, the results of the portrait will just slightly differ in quality. It's an easy activity that doesn't ask for any prep work, except for the printing of the coloring page and you're ready to go.
Whether you use this with your kids at home or as a teacher, it's an easy and low-effort activity that all kids can do. Just make sure to only use it for personal use and you can grab this printable I made for free right here.
Download this free printable here
RELATED Perfect Mother's Day Gift Ideas
2. Funny Food-Themed Mother's Day Cards
If you're not looking for activities, then these free printable mother's day cards I made are another easy mother's day gift idea. The theme is delicious food and it has accompanying food puns that are perfect for moms. From a sweet and fresh melon to a nice block of cheese, these food-themed greeting cards were a lot of fun to make.
You can print them out for free using the link down below, though they're only for personal use, so no selling onward. Choose what kind of paper you want to print it on or if you want to get them printed out in a print shop and that's all there's to it. You can alter the sizing a bit in the pdf to fit however many of them you want on one page.
My personal favorite is the pudding card, though the melon is a close second because of the colors I used. They're fun cards to let your kids fill with sweet messages or to use as an addition to a gift basket or other gift without having to pay a couple of dollars for a card, because they can be pretty expensive nowadays.
A card is always a simple gift you can't really go wrong with, maybe put a gift card with it or some of their favorite snacks and there you have an easy and low-effort gift you didn't have to pay a lot for either.
Download these free printable cards here
RELATED: Great Gift Ideas for Grandma
3. A Mother's Day Word Search Activity
The last of the free mother's day printables I made is this word search filled with words that remind you of moms and motherhood. It's a simple activity to do with kids who just learned how to read or just enjoy doing word searches. The square isn't too overwhelmingly big and the words are a good size to be found easily.
This is an easy activity you can just print out and put in front of them that will also teach them their letters a bit better. So, not only is it fun and on-theme, but it's also educational. It was pretty easy to make using a word search generator, so if you want to make a custom one with the names of your family, be sure to try out some of the tools available online. Of course, the pretty border and flowers and such were added by me afterward.
I think word searches are great calm activities to do that you can split across several days if you want. So, if you're looking for something that won't be a lot of effort for you, then this original printable is a perfect option. Again, they're made for personal use, so perfect for parents or teachers to use at home or in the classroom.
Download this mother's day word search here
Some great crafts made by other creators: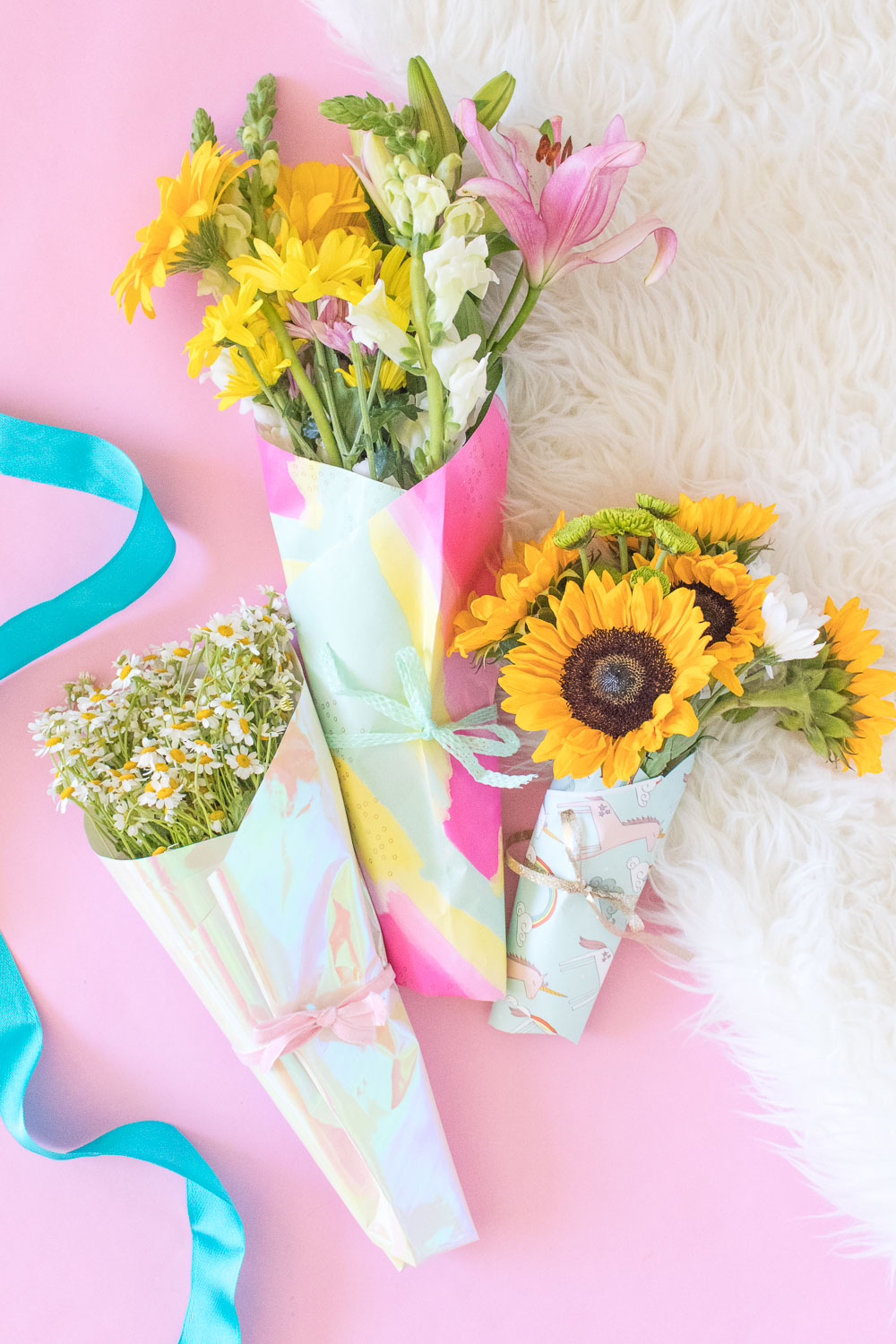 This one by ClubCrafted is perfect for smaller kids who love painting but aren't great at painting anything other than streaks and blobs. Just present them with a nice set of pastel paint colors and it'll look great no matter what. A tip; try to avoid opposing colors as they will merge to become brown really quickly. So use this tutorial to wrap the flower afterward with the paper your kids decorated and you're done.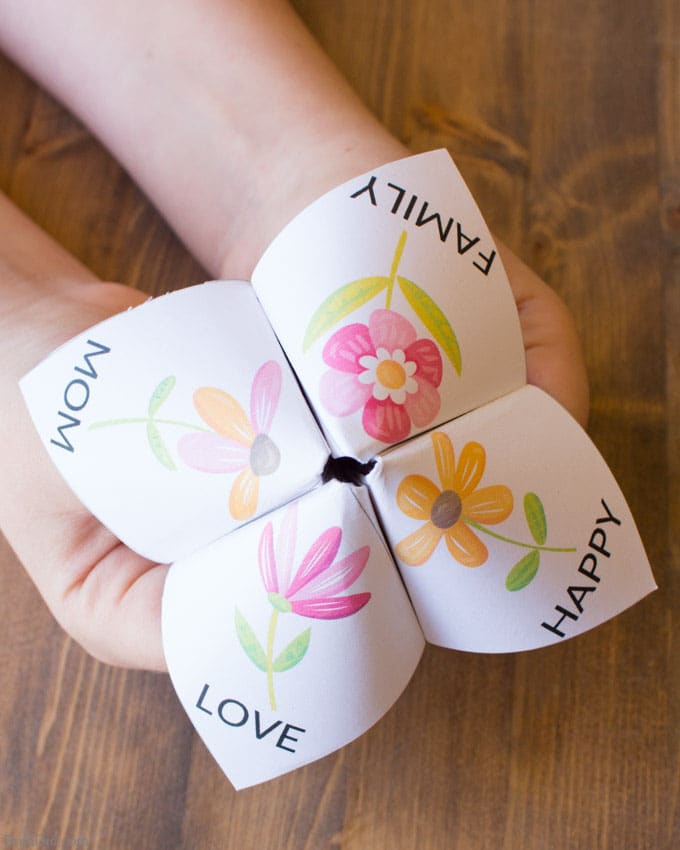 We all made one of these at some point in our lives. This one by BrenDid is mom-themed and a printable that is filled with fun activity to do with mom. From 'Give mom a compliment' to 'Help mom with a chore', you'll find things to help mom or make mom's day so much better. It's great for kids that aren't really into crafts but still want something of a mother's day gift to give to mom.

This printable by EasyPeasyAndFun is another great mother's day craft. This one doesn't require a lot of crafting or creative skills, as it's more an assembly job and glue craft than anything else. So, just print out the printable, let them cut out all the necessary shapes, and stick it all together. If you want, you can have them decorate the background if they want to color or paint something. However, without any additional art, it's already a great mother's day printable craft for loads of different ages.
Want more?
If you're looking for other spring crafts and activities for kids, then check out these fun and free Easter printables I made that you can use for this time of the year as well. In my opinion, most spring holidays sort of mesh together and are all perfect themes to mix up and use as inspiration for each other. The Easter crafts for example has a DIY garland that you can also make for Mother's day with slightly different shapes and a cute spring-themed bingo that is also perfectly fine to play on mother's day.
So, if you're looking for spring activities, keep your mind open and look at all the different holidays and themes that are perfect for spring and mix and match those activities that you think your child will enjoy best. And as you can see with these free mother's day printables, it doesn't have to cost you a penny.
RELATED: Gift Guide for Stay At Home Moms
I hope you'll enjoy using the free mother's day printables to keep your kids busy or to create a nice gift for mom with. I made all of these myself, so you're free to use them for personal use without any strings attached. All I ask is for you to relax and use them to keep your kids busy when you need a break, because maybe the best mother's day gift to get is to have a bit of a break from being a busy mom all the time.
Pin it for later!